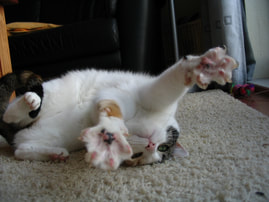 We all suffer, from time to time, some sort of body ache or pain. What if you could do some easy exercises at home, with no equipment, to prevent many of these pains? Mat Pilates is a wonderful way to do just that! The "Warm Up" part of Pilates is a series of very easy exercises that can help re-educate our bodies for functional movement.
Whether you are wanting to just do some light movement to start your day, get your body ready for a workout, or relieve some tension or aches in your body, the Warm Up is a wonderful set of exercises to do.
​
The Warm Up can be found here.
The link provided describes 10 easy exercises that comprise the Warm Up, with photos. (To access the images and descriptions, you have to click on each individual exercise.) I find it helpful to printout each of the exercises. That way, as you are laying down doing your exercises, it is very easy to refer to your printouts for reminders of the details. If you've never taken Pilates, these exercises won't make as much sense as they will if you have taken Pilates lessons.
At the bottom of this post I will provide links to videos that I like for each of the exercises. The internet has many videos on this subject but I am not impressed with most of them.
Some of the videos I post include movements that are not recommended for beginners.
I will make note of these next to the exercise video link. I will be slowly building that section of this post as I search and find videos that I find useful.
SEE BELOW FOR VIDEOS OF INDIVIDUAL WARM UP EXERCISES.
Mat Pilates can be done at home on just a mat (no other equipment necessary).
One can take private and/or group classes. You can learn the exercises from an instructor IN PERSON, or online or from DVD's. Personal instruction is highly recommended.
To get the most out of what Pilates can do for you I recommend taking at least a few private lessons. An affordable way to learn Pilates is to take some private lessons, THEN take group classes (most affordable option for instruction with a teacher). Whether you are doing group classes or Pilates at home, I suggest you take occasional subsequent private lessons which will help you work through trouble spots, improve your movement patterns and re-invigorate your motivation. You can apply what you've learned from your private instructor to the group class (where instruction isn't personalized) or to your home practice. Many gyms, including the Minneapolis YWCA, have group classes that are free to members.
If you would like to take private lessons
with me, please see my
Pilates Page
and contact me to schedule your private lesson. I love teaching one on one!
VIDEOS OF THE 10 PILATES WARM UP EXERCISES:
Some parts of some of these videos show movements that could potentially cause pain. See my notes below and do not do any movements that cause you pain. Generally, these videos are safe for beginners but also include movements with legs lifting off the mat. If you have low back pain or are prone to low back pain, do not lift your legs off the mat.
1) Breathing
2)
Imprint and Release
,
NOTE:
Beginners should follow video only up to the 1:50 mark (One minute fifty seconds.) This v
ideo includes lifting a leg from the mat.
This leg lift is NOT for beginners
, although it is a very good exercise when you are ready for it.
3)
Hip Release
4)
Spinal Rotation
, video shows exercise being done with a couple props (pillow and roller) which are good options.
5)
Cat Stretch
6)
Hip Rolls
, NOTE: video includes lifting a leg from the mat.
This leg lift is NOT for beginners
, although it is a very good exercise when you are ready for it.
7) Shoulder Blade (Scapula) Isolation
8)
Arm Circles
, this video shows a different start position of the arms than is described in the first link provided at the very top of this post. Either start position is fine.
9) Head Nods
10) Elevation and Depression of Shoulder Blades (Scapulae)