Whether you are a serious athlete or just want to lose weight, alcohol can impede your progress.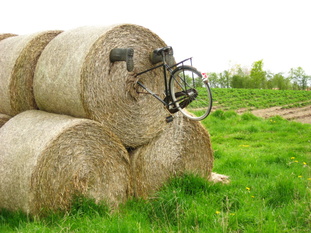 It is common to see people after a hard team practice, a long bike ride or a day of competition throw back a few beers and revel in their down time. This can be great fun...but it can also interfere with one's goals of recovery, strength building or weight loss. If you are one to imbibe, the following can help you partake wisely, or perhaps not at all, and succeed on your athletic or weight-loss path.
The four numbered points in this post are my summary of an already short and very readable article,
Drinking and Exercise
, written by Selene Yeager, a health, fitness and cycling expert. (She has a
blog
with some good reading, too!)
1) Muscle tissue needs to recover after a hard workout. This has to do with the use of stored carbohydrates and your subsequent intake of protein and carbs post-exercise. Alcohol blocks and impedes the cellular uptake of
carbs needed for
muscle recovery
. If you drink right after you work out, you are depriving your muscles of what they need.
2) Alcohol is metabolized by the body in a complex manner that is counter-productive to

weight loss
. The body "prioritizes metabolizing the alcohol over burning fat and carbs". Once it is digested, it is stored as fat...especially in the thighs, glutes and midsection.
3) Alcohol disrupts your

sleep

. Deep and sufficiently long sleep is needed for muscle
tissue repair and recovery. Interfering with your sleep interferes with recovery and performance.
4)
Alcohol depletes your body of
nutrients and water
. Your body's ability to absorb nutrients from your food is diminished. I'm sure you know that alcohol dehydrates your body, but did you know this?: "For every gram of ethanol you suck down, you pump out 10 milliliters of urine (that's about 9.5 ounces for two beers). As little as 2 percent dehydration hurts endurance performance."
So, if you want to succeed in your athletic pursuits or weight loss plan and you are a drinker, I recommend being smart about the timing and volume of your alcohol intake. It's another way of being nice to your body.
photo by Tomasz Sienicki
at
Wikemedia Commons
with this
license