The Freewheel Midtown Bike Center has its' own cafe serving quality food from an artful chef!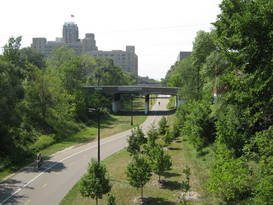 Midtown Greenway, near Freewheel Bike Cafe
There are many reasons to be especially happy to live in Minneapolis. Two of my top reasons are the bike trails and the growing number of quality restaurants and cafes in town. I deeply appreciate food that is healthy, made from scratch and super tasty. And I am glad to live in a place that was recently named
America's Top Bike City
.
Thus, my elation when I discovered the two of these things...awesome food and biking...conjoined
in the heart of Minneapolis
!
Behold the
Freewheel Midtown Bike Cafe
.
I have been riding the Greenway for years and was thrilled (in the way bike enthusiasts are subject to when the world periodically aligns with our passion)
when F
reewheel
opened shop down on the Greenway, right across from the old Sears Building. They added a coffee shop and had some snack items and the usual Gu, energy bars, etc. That seemed like a gift. I thought it was enough. But, they went even further.
Last year I stopped in the cafe several times for some energy and was surprised to
find what to me rated as gourmet soups and really healthy, tasty sandwiches...all made right on premise. I ate with much contentment, happily continued my ride and didn't really think about the food again until my next ride and stop into the cafe. Then, one day their blackboard outside had a message inviting passers-by to "come in and meet Chef Phil". That got me thinking more about the food I enjoyed there and sparked an enthusiasm in me that hasn't diminished:
My
Greenway Bike Trail has a
unique and special
Bike Shop
Cafe
with a
talented chef
! That simple message helped me see it in a new light...illuminating how lucky I am, how lucky we are, to have this place in our town. And I want to tell you a little about it so you, too, may enjoy this gem in Minneapolis.
Chef Phil harkens from the West; born in California and raised in Missoula, Montana. He worked in small kitchens in Montana and then in Minneapolis when he moved here in his early 20's. You wouldn't know it talking to him because he is humble, but he is an accomplished chef.
Most recently, his reputation comes from his time as Executive Chef and Kitchen Manager at the
Birchwood Cafe
and as Executive Chef at
Common Roots Cafe
. He notes an "eye opening experience" toward food while in France where he cooked (along with other Birchwoodians) for a
Mello Velo Bike and Culinary Tour
. He was impressed by the quality of the ingredients and the regard for and treatment of them.
This respect and passion for quality ingredients shows in the food offerings at the Midtown Bike Cafe. Casual conversations I've had at the cafe counter with staff tell of how Phil himself just that morning picked out some organic ingredients from the
Midtown
Global Market (across the bike path and up some stairs to street level)
or that one of the day's salad offerings is a new recipe he's trying out or that the sweet smell I've noticed is a pastry still in the oven and if I have a few minutes I can have some. How exciting!
Here is a comment from Phil on the food at the Midtown Bike Cafe:
"We make all of our food from scratch, including soups, deli salads, sandwiches and bakery items. We generally have 2-3 soups at a time, and always have a vegan option on the menu, same goes for our deli salads. Just last (fall) I implemented our baking program, where we do all of our own breakfast pastries as well as some cookies and bars. Again, there is usually a vegan option in the baked goods arena. What I am most proud of are our savory scones, every morning there is something different." The day he told me this he had just prepped up "a leek, butternut squash, bacon and pesto scone for baking off tomorrow, should be delicious." They also make fresh fruit smoothies.
I want to remind you that this is also a bike shop. They have most anything you'd need, including quick repairs as you wait (flats, derailleur problems, etc.). Phil is also passionate about cycling.
He had this to say on the topic: "Freewheel in particular was of interest to me as my hobby, lifestyle and friends all are deeply intertwined with cycling. I average between 5-6000 miles a year, cycle year round and between myself and my wife currently have some 15+ odd bicycles in our stable. Working at Freewheel gives me the opportunity to see, feed and talk to cyclists of all walks of life. We have the hard-core roadies on full carbon race machines walking in the door right after someone on a vintage 3 speed cruiser in a dilapidated state."
My most recent visit to the cafe was
out of laziness. I was riding my bike home from work at the end of a long week, my stomach was growling and I was hoping my Sweetie was home already and starting dinner. No luck. He was still at work. Just as my hungry brain started on a self-pity path, I realized I'd be passing by the Bike Cafe. Saved! I popped in and ordered a vegan soup (curry chickpea cauliflower bisque) and the "Howard" sandwich (homemade hummus, spinach and roasted asparagus with red onions and rosemary) to go. I biked the rest of the way home, settled on the couch and had a most delicious dinner. A very nice way to end the week and start a weekend.
photo by Innotata
at
Wikimedia Commons
with this
license