Remember, relief is at hand--schedule a massage.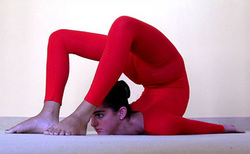 As you might imagine, I see many clients with low back pain. Massage therapy tailored to each client's specific condition and focused on the back pain can make all the difference in the world.
A recent article from the University of California's "Berkeley Wellness Alerts" discusses self-care for low back pain. The bullet points below are direct quotes from the article:
•
Low back pain is an almost universal problem. It usually goes away after a few days, but in about 10 to 20 percent of people it becomes chronic.
• Weak muscles in the back and abdomen as well as lack of exercise can be contributing factors, and the risk increases as you get older.
• Try ice or heat. Either or both may help.
• Bed rest is not a good idea—there is plenty of evidence that it often makes low back pain worse. If the pain keeps you from moving, it's okay to stay in bed, but only for one or two days at most. Resume walking and other activities as soon as possible.
• Exercise, such as walking, swimming, stretching and gentle yoga, may ease pain. A regular exercise program can help prevent back pain. There is evidence that exercises focusing on the core muscles in the abdomen and lower back can be helpful.
• Professional massage can be helpful. In a large study in the
Annals of Internal Medicine
in July, two-thirds of people with low back pain who received either Swedish (relaxation) or "structural" massage for 10 weeks reported substantial improvements that lasted for several months.
• Call your doctor if you think you have injured your back, if after two or three days you are not improving, or if your pain is severe or radiating. Numbness, tingling, weakness in the limbs, bowel or bladder problems, nausea, fever and vomiting are other signs you need help.
Those are points I picked from the article. If you want to see the whole thing, go
here
.
Let me add that having a regular schedule of massage (for example, once every two weeks or once a month) can also be effective in preventing low back pain
.
You don't have to accept low back pain and suffer days or weeks of limited activity and the associated mental/emotional anguish. Live life fully. Take care of yourself. Let massage be part of your self-care.