Are your thumbs vectors of disease?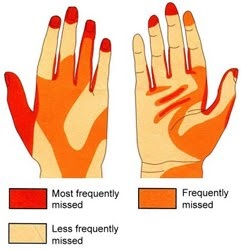 image from scienceprofonline.org (2)
Look at that red thumb! And those finger tips!
I was surprised to see this image and learn that these areas are often missed when washing hands. Hand-washing is one of the best ways to keep from getting sick and spreading illnesses. You can reduce the spread of disease by studying the red and orange areas in this image and making sure you wash those areas well. Below are hand washing tips from the Centers for Disease Control and Prevention (CDC). (1)
How to Wash Your Hands

(I included the obvious, like using soap, but highlighted what might not be as obvious)

:
• Wet your hands and apply liquid, bar, or powder soap.
• Rub hands together vigorously to make a

lather and scrub all surfaces: including
thumbs, finger tips, back of hands, and between fingers.
• Continue for

20 seconds!

It takes that long for the soap and scrubbing action to dislodge and remove stubborn germs

. Need a timer? Imagine singing "Happy Birthday" all the way through – twice! (Or have fun with it and come up with your own 20 second song, poem, self-affirmation or recitation.)
• Rinse hands well under running water.
(
If your hands touch the basin at any time, start from the beginning
.)
• Dry your hands

thoroughly

using a paper towel or air dryer.
• If possible, use your paper towel to turn off the faucet.
Don't let YOUR thumbs be disease vectors! Be a good hand-washer. And pass this on so everyone you know has clean thumbs, too!
(1) CDC brochure, An Ounce of Prevention Keeps the Germs Away
(2) www.scienceprofonline.org