A good sports bra will provide comfort and can prevent injury.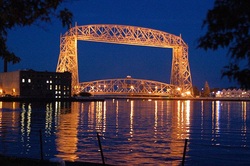 Lift bridge in Duluth, Minnesota.
During high impact sports (running, horse back riding, aggressive mountain bike riding, etc.) our breasts can get a little too bouncy. This is not only uncomfortable but it can cause injury to ligaments in the breasts.
Cooper's Ligaments help hold the breasts up. They are thin bands interwoven into the breasts and are not very strong. If the breasts are not supported properly with a good sports bra, repetitive bouncing from running can stretch the Cooper's ligaments permanently. (1) Additionally, large and/or drooping breasts that are not properly supported can also cause upper back and neck pain. (2)
A well-fitting, quality sports bra will hold the breasts in place and make exercise a much more pleasant experience.
Through my years of shopping for sports bras I have learned that two main features affect the support a bra provides: the amount of spandex in the main body of the bra and the chest band width. The higher the percent spandex there is, the more support you will get. The width of the chest band is even more important. Look for a width of at least one inch for good support. To prevent shoulder and neck pain, look for bras with wide shoulder straps and racer back straps.
Stores and sports apparel companies that cater to athletes should be able to help you find bras that fit your body and provide proper support. If you engage in high impact sports, I advise against buying sports bras from non-sports focused stores.
This link has a nice list of things to look for when purchasing a sports bra, such as flat seams
and moisture-wicking fabrics.
(1)
SportsInjuryClinic.net
, "Breast Pain in the Female Athlete"
(2) ehow.com, "What Are the Treatments for Breast Ligament Pain"
photo credit: Scott Feldstein
at
Wikimedia Commons
with this
license
.