Cleaning your tongue can reduce bad breath by 70%.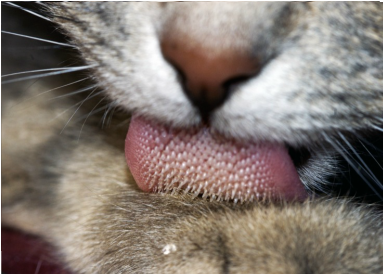 Did you know that
food bits are left on your tongue after you eat and that the bits just sit there and decay and create an odor?
Gross, huh?
According to the American Dental Association, "a major source of bad breath in healthy people is microbial deposits on the tongue, especially the back of the tongue, where a bacterial coating harbors organisms and debris that contribute to bad breath." (1) There are other sources of bad breath, of course, such as rotting teeth and some medications. But for most of us, the origin of and solution to bad breath is simple. "Some studies have shown that simply brushing the tongue reduced bad breath measurements by 70 percent." (1)
To clean your tongue, you can use your toothbrush to brush your tongue or you can use a special tool called a tongue cleaner. This is a U-shaped piece of thin metal made to gently scrape the tongue after you've brushed your teeth.
It is a very easy to use and safe tool. The only draw back is the tiny extra step of cleaning it off and having a convenient place to store it. (You might be amused to examine the tool before you wash it off. At the very least, it's informative!)
Being the daughter of a dentist, I would be remiss if I did not also promote brushing after every meal and flossing once a day. This not only saves you from bad breath but also keeps your teeth and gums healthy.
(1)
"what you should know about bad breath"
,
ada.org
Pho
to by
Jennifer Leigh
at
Wikimedia Commons
with this
license
.
(BTW, a cat's mouth is cleaner that a human mouth. I hear it's because cat saliva has a unique component that acts as a detergent. This helps them when they clean themselves and it may help destroy germs.)