For some, a sensitivity to gluten can cause arthritis symptoms or joint pain.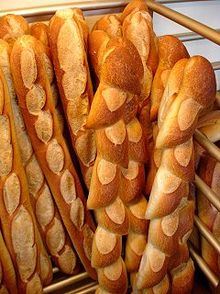 This post is not a comprehensive discussion of the connection between gluten and joint pain. My intention is to merely offer a path of inquiry to those who experience arthritis or joint pain and who want to avoid medication. The best resource for answers on this subject is a qualified allergist or nutritionist who can help you adopt a healthy gluten-free or low-gluten diet.
Some people don't digest gluten well and this can cause an array of problems. The problems can range from mild and intermittent to life threatening...from an allergy to gluten to Celiac Disease.
I am using the term "sensitivity" to address the wide spectrum.
A person who has a gluten sensitivity has difficulty digesting the protein in gluten. This problem occurs in the intestines and causes the immune system to kick in, and this results in inflammation.
This inflammation varies from person to person and can occur in joints, but also can affect the gut and other body systems. If your joint pain is caused by a gluten sensitivity, reducing or eliminating gluten in your diet can bring amazing results.
Gluten occurs in many common grains and their derivatives, including bread, pasta, many processed foods and even beer! See here for
gluten and gluten-free foods.
Anecdotally, I have met people who have had all or most of their arthritis joint pain go away after they eliminated gluten from their diet. Scientifically, the medical arena is starting to pay more attention to this problem. One study showed a gluten-free vegan diet improves the signs and symptoms of rheumatoid arthritis. (1)
If you have joint pain and want to explore a medicine-free solution, look into the possibility of gluten being the culprit.
A good place to start on the internet, I think, is this article on
WebMD
. There are organizations, websites, cookbooks and cooking classes catering to the gluten sensitive population. Also, be sure to talk to a medical professional if you get serious about exploring a gluten sensitivity.
There are many causes of joint pain, of course, but a thorough search for the root cause just may keep you off medicine and pain free!
(1) published by National Institutes of Health at this
link
.
photo credit: Julie Kertesz
at
Wikimedia Commons
with this
license