Science has shown that inhaling through the nose is beneficial to one's health.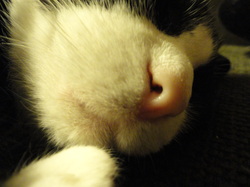 Inhaling through the nose has some fairly obvious benefits: air passing through the nose is filtered, humidified and heated on it's way to the lungs more than when inhaled through the mouth. Scientists have discovered an additional benefits to nose breathing: it can lower blood pressure, enhance the uptake of oxygen in the blood, and might help ward off certain illnesses.
How can something as simple as breathing through your nose make such a difference? The answer is Nitric Oxide (NO). Nitric oxide is not the same as Nitrous Oxide (N20), the sedative also known as Laughing Gas.
Nitric oxide (NO) is a vasodilator gas produced in the paranasal sinuses and is excreted continuously into the nasal airways of humans. (Vasodilators
widen blood vessels and thus lower blood pressure.)
This NO reaches the lungs with inhalation, especially during nasal breathing. (1)
Another effect of inhaled nasal-NO
is the relaxing of the bronchioles (small airways in the lobes of the lungs). This
enhances airflow, thus increasing oxygen exchange into the bloodstream.
(2)
Nitric Oxide is well known for it bacteriostatic effects
. That is, it inhibits the growth of bacteria. This suggests that nose inhalation may aid in the maintenance of sterility in the human paranasal sinuses. (3)
Whether you are working at a computer, holding yourself in
a strenuous yoga pose, or recovering between sprint intervals, it will serve you well to breathe through your nose.
---------------------------------------------------------------
My next post will be published the week of November 7.
In the meantime, let me know if you have any suggestions for posts....and keep breathing through your nose.
(1) "Inhalation of nasally derived nitric oxide modulates pulmonary function in humans", study cited on
Wiley Online Library
(2)
"
Science of Systema- Inhale through your nose"
,
Alberto Nacif
(3) "High nitric-oxide production in human paranasal sinuses", study cited on webofknowledge.com