Flexibility and strength in your feet help you have good balance AND can keep
other body pain at bay.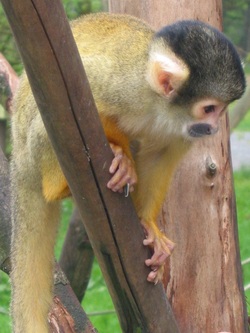 The importance of having good muscle strength and range of motion in the feet should not be overlooked. Stretching and strengthening exercises for the foot (and ankle) can reduce the risk of falls by older people. (1)
Walking, running, climbing stairs (and other daily movements) with stiff toes over a prolonged period of time will cause other muscles and joints to overcompensate for that loss of foot mobility. Among other things, it can lead to Achilles tendonitis and knee pain. Also, a supple foot has the sensitivity to convey subtle information about body-weight shifts to the brain, which will use it to correct and fine-tune it's balance responses as we move about on our feet. (2)
In my massage practice and the yoga classes I attend, I see a wide variety of foot fitness. I see some people with very flexible feet and impressive maneuverability. I also see some people with very stiff feet. One of the main range of motion limitations I see is at the base of the toes where they join the foot, most notably at the big toe. Ideally, one can have the toes extended (toes pointing upward) at that joint at almost 90 degrees. When I see a maximum angle of about 45 degrees or less, I get concerned. This inflexibility can prevent a full stride in one's walking and running gait. If the stiffness is not addressed, it will likely only get worse and can cause more problems down the line.
Doing foot exercises and stretches is one of the easiest self-help things you can do. These exercises can even be done while you watch t.v. or read a book! You can gently manipulate your feet and toes in
to flexion and extension while you are in a seated position (a standing position is also good). You can use the floor and/or your hands to do this. See this
link
for some good exercises. Included in that link are some fun exercises using a golf ball, a small towel and some marbles.
(Regarding two of the illustrations: For the

golf ball exercise

: I don't like that they show a pointed foot...looks uncomfortable to me. Your foot doesn't have to be pointed. Just be sure to not use so much pressure that you feel pain. For the

towel exercise

: I am familiar with this exercise being done with the heel in contact with the floor and scrunching the towel with the toes.)
As with any exercise, if your body is not used to it, it will take some time to get good at it. Be patient and take note of your progress over time. If you have any questions about these exercises, please feel free to contact me.
There is a nice stretching move you can do for your toes that is not included in the link above:
Stretch the toes gently away from each other by inserting the fingers of one hand between the toes of the opposite foot. This is best accomplished while sitting with the left ankle crossed over the right knee and the right palm resting on the left sole, for example. Use the narrowest part of the fingers if toes are stiff; a bit of gentle squeezing and massaging can help loosen things up. (2)
Your feet are your foundation. Make it a habit to k
eep them in good shape.
Your older self will thank you.
(1) a study in Journal of Gerontology
, "
Foot and Ankle Characteristics Associated With Impaired Balance and Functional Ability in Older People"
(2) Yoga Journal article on
waking up the toes for improved flexibility and balance
photo credit:
Boris23
at
Wikimedia Commons
with this
license
.