"Teeccino" may be the drink for you!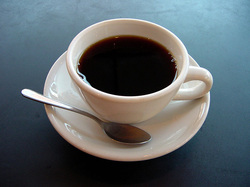 Over the years, I have become more sensitive to caffeine. Even decaf is often too strong for me. This was sad for me because I love the taste of coffee. I tried some coffee alternatives along the way but found them to be lacking in flavor or richness, and some of them made me feel bloated. Then I discovered Teeccino! How exciting for me!
Teeccino has the best all around flavor I have experienced in any coffee alternative. The one I drink is the "French Roast, organic". It is labelled as "Maya herbal coffee", "dark roast". It comes packaged like ground coffee and can be prepared in a coffee maker, filter cone, or french press
. It is delicious iced! It is available at co-ops in Minnesota. I've purchased it at several of them in Minneapolis and at the co-op in Duluth.
This beverage is also good for coffee lovers who like that hot beverage after dinner but don't want the caffeine so late in the day. The Teeccino makers give a little tip on how to mix your coffee with the Teeccino
and gradually adjust the ratio until you've kicked the caffeine habit...if that's what you want.
Here is their website
.
I highly recommend Teeccino for anyone who likes coffee but, for one reason or another, would like a great tasting coffee alternative.