The Cobra: Flexibility for your spine and strength for your back.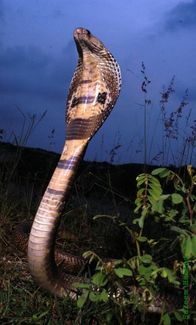 Having a strong core is important to help us get through our work days and participate in sports with ease and comfort. The "core" includes the back of our bodies as well as the front. So, strengthening the core is not just doing abdominal exercises but includes doing back exercises.
The cobra pose is a simple exercise that is excellent for strengthening the whole back, including the lower and upper back. Done regularly, it also helps to
increase the flexibility of the spine.
To do the pose, you will lay on a flat, firm surface with some cushioning. A bed is too soft. A rug, a yoga mat or exercise pad are good options.
Hard wood floors are fine as long as that is comfortable for you.
Here is a pretty good video of how to do the cobra pose (less than 2 minutes long). Thanks to Pete Guinosso for posting it. I chose this video because he gives details that I think are important and he doesn't go for the big dramatic arch. For me, attention to details and alignment are more important than aiming for an impressive pose.
Some of the key things to keep in mind when doing the cobra are:
-press

toes (toe nails) into the floor

to keep you grounded
/stable
-keep

heels aimed toward ceiling

for proper leg alignment
-gently

tuck tailbone

under
-keep

abdominal muscles engaged

(slightly tightened or pulled in)
-stretch the

spine long

(stretching it away from your
hips)
-

don't

toss head backward; keep

neck

long and
only slightly curved
-slide

shoulder blades
down
the back
and toward each other
-keep

elbows in

at the side of your body
-let your

chest open

and move forward
(known in Anusara yoga as heart opening).
T
his pose should not strain your neck. If you feel neck discomfort you might be arching your neck too much or holding too much tension in your shoulders. To alleviate neck discomfort in this pose, try one of these tips:
-
changing the tilt of you head by adding a slight tuck of your chin -be sure to keep your shoulders down
-
don't push your arms
too straight, keep a bend at the elbows.
It also should not strain the low back. If you feel discomfort in the low back be sure to:
-keep spine long and stretched away from pelvis and hips
-tuck your tailbone (gently) toward the floor
-draw your navel toward your spine (engaging your abs).
If theses tips on preventing strain do not take away the discomfort, I suggest not doing the exercise until you have a yoga instructor or personal trainer instruct you in person.
This pose is gentle enough that you can do repetitions of it or try increasing how long you stay in the pose (start with holding it for 15 seconds and then slowly...over days or weeks...work up to holding it for a minute) and it can be done every day.
As with all exercise, don't do anything against your doctors advice, especially if you are experiencing pain or recovering from an injury or surgery.
If you have any questions, feel free to post a comment or email me.
photo by Saleem Haleed at Wikimedia Commons with this license.