If you want to lose weight or simply to have enough energy for your day, be sure to eat breakfast.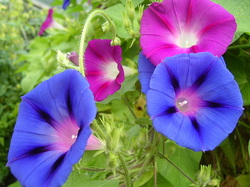 You might have heard it before, but I'll repeat it because too many people still skip this meal...
Breakfast is the most important meal of the day.
Our metabolism slows during sleep. Eating breakfast kickstarts and speeds metabolism in the morning. The American Council on Exercise says eating breakfast is important for weight loss. People who skip breakfast tend to consume excess calories by eating more at lunch and dinner. And it can't be just any breakfast. Sweets and a lot of fats won't do. Smart food choices are important for a weight-loss breakfast. (1)
As far as having good energy for the day, studies show that eating a healthy breakfast (as opposed to sticky buns and doughnuts) can:
-Improve your concentration and performance at work and in school
-Give you more strength and endurance to engage in physical activity. (2)
So, please be good to yourself. Take time for your wellbeing and eat a healthy breakfast. It's an important element in making your day a good one!
photo by
Chilepine
(1)
livestrong.com

(2) webMD