Increase your metabolism and you will burn calories more efficiently, at rest and at play.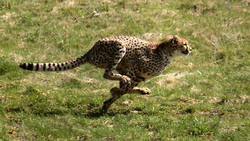 If you are trying to lose weight, solely reducing your calorie and fat intake may only lead to frustration and a feeling of failure. One of the most straight forward and effective things you can do is to increase your metabolic rate.
Your metabolic rate is the rate at which your body uses energy--the number of calories it burns in a given period of time, either at rest or while active
. (1)
You can increase your metabolic rate by increasing the
amount of exercise
you do and by increasing your
muscle mass
.
Aerobic exercise
makes your body work harder and you burn calories at a faster rate as you do that work. The increase in rate of calorie burning lasts even after the exercise is finished. (2) Some easy aerobic exercises are: fast walking, bike riding, stair climbing, elliptical machines. It doesn't need to be extreme...just adding more to your daily/weekly routine than you currently do will help increase your metabolic rate.
The best way
to increase your muscle mass is by doing weight-bearing exercise regularly. A weight-training program that exercises all the major muscle groups for 40 minutes twice a week helps women lose excess fat and gain significant muscle mass--thus resulting in a higher metabolic rate and ability to burn calories effectively. (2) Muscle is much more effective at burning calories than is fat. In fact, muscles burn calories at two and a half times the rate that fat burns calories. (3) Some ideas to start a weight training routine: many gyms and workout studios have very effective weight training classes that are easy to partake in; you can meet with a trainer once or twice to get a program designed for you that you can then do on your own; meet and workout with a trainer regularly; buy a few hand weights and train at home.
As always with embarking on a new exercise program, check with your doctor to make sure your exercise plan is a good choice for your current health condition.
(1) "Wellness
Made Easy", from the University of California, Berkeley Wellness Letter, 2009, MediZine LLC
(2) "Women's Bodies, Women's Wisdom", Christiane
Northrup, 1998, Bantam Books
(3) "8 Ways to Burn Calories and Fight Fat
",
WebMD
photo by: Malene Thyssen
at
Wikimedia Commons
with this
license