A simple gadget can help you cut back on sugary drinks and help you increase your water intake.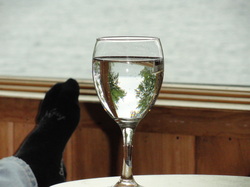 I think we all know by now that too many of us drink too much pop or soda (...or whatever you call it.) And most of us don't drink enough water. If you are trying to improve your health by changing what you drink or how much water you drink, consider making a purchase that will be an investment in your health.
Last year I bought a Soda Stream
Fountain Jet
. It is a small counter top appliance (non-electrical) that uses water from your tap (or other water source) and in mere seconds turns it into sparkling water. There may be other brands out there; I'm just writing about this one because it is what we have and I love it. I got it mostly for environmental reasons: to keep us from buying so many cans.
The fountain jet works like this: We fill the liter sized bottle (which comes with the kit) with water from our tap-water filter system, attach the bottle to the fountain jet, press a button a couple times...and, Voila!...we have sparkling water. We then fill a large glass with the water, squeeze a lemon or lime wedge into it, drop the wedge in...and we have ourselves a refreshing drink (with no can to toss)!
These days, for sweet carbonated beverages we take any of our favorite juices (orange juice is a regular) and add the home-made bubbly water to it: about 1 part juice to 2 or 3 parts water. Natural fruit juice does have sugar but it is so much healthier for you than high fructose corn syrup AND you can control the level of sweetness of your drink.
Plain bubbly water can be more appetizing or tasty than flat water. Certain meals call out for a little zing with your beverage. I find that it's fairly easy to skip the sugar altogether and just go for the plain carbonated water and still feel like the beverage has some excitement to it. Sparkling water is also sometimes more appealing or more thirst quenching as the water drunk between meals. I don't mean to dismiss the virtue of flat water. I'm just being honest that I sometimes prefer the bubbly...frequently enough that I know I am actually taking in more water than I would otherwise.
I highly recommend adding this to the things you have for your health!
photo copyrighted July 2011