Chinese medicine can safely and effectively treat uterine fibroids.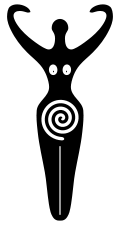 I know of many women who have trouble with fibroids. Some of them have had hyterectomies due to complications from fibroids. Recently, I learned from my acupuncturist that Chinese medicine can be extremely effective for treating this condition.
I was thrilled to learn of such a safe treatment for
fibroids
but I was also saddened to realize that this solution, to a fairly common ailment, is unknown to so many women.
Uterine fibroids are non-cancerous growths in the muscle wall of the uterus. Many women have fibroids with no symptoms and no problems. However, for many women fibroids can cause pain, heavy bleeding during their menstrual period, and other abdominal complications (including backache and frequent urination). Fibroids tend to shrink and often disappear after menopause. (1)
Conventional (or Western) medicine treatments for fibroids involve taking hormones or having surgery. Fibroids are the leading cause of hysterectomy in the U.S. (2)
Fortunately
for women who wish to avoid taking hormones and surgery
, there is an alternative
. Chinese medicine has provided effective treatment of fibroids for centuries using herbs and acupuncture. The nice thing with Chinese medicine and uterine fibroids is that there is an explanation for what causes fibroids, how you can prevent them, and a treatment for them. It is important to note that some fibroids may be too big or the condition otherwise severe enough that surgery is required.
Chinese medicine teaches that fibroids are fostered by stagnation of the digestive system and of the liver. It is best to avoid fried, greasy, and high-fat foods, refined sugars, processed foods, gas-producing foods, caffeine and alcohol. When your abdomen is "happy", according to Chinese medicine, fibroids may resolve more quickly. (1)
The Chinese medicine treatment for fibroids includes herbs and acupuncture. My understanding
is that the herbs are the more powerful or effective part of the treatment and that the acupuncture aspect is to assist in the healing.
The result can be either shrinking the fibroids until they are no longer a problem or making them disappear altogether.
There is pretty good information on this online. See this link for more interesting details.
If some of my readers are interested in more on this subject, I can talk with my acupuncturist and do another post on it.
Just let me know!
When seeking Chinese medicine treatment of fibroids, find an actual acupuncturist rather than some other sort of practitioner who has only taken workshops or continuing education seminars on herbs and acupuncture.
(1)
Smart Medicine For Healthier Living
, Janet Zand (with Spreen and LaValle), Avery Publishing Group
(2) amazinghealing.com