Know the signs of heat exhaustion vs. heat stroke and what to do about them.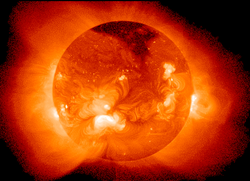 Extreme heat in the summer can lead to heat sickness.
The sickness one experiences can range from mild to severe. Heat stroke can cause death or permanent disability if emergency treatment is not provided. (1)
It is good to know the signs of heat sickness, how to treat it and how to prevent it.
This post covers some of the basics.
I recommend the websites for the CDC and WebMD to familiarize yourself with these illnesses.
When the summer weather brings extreme heat, our bodies have to work hard to maintain a healthy core temperature. Sometimes we cannot dissipate our internal body heat quickly or efficiently enough and we end up suffering from hyp
er
thermia: excessive core body temperature which can cause heat exhaustion or heat stroke.
Those most susceptible to hyp
er
thermia are athletes, outdoor laborers, infants, and the elderly.
Heat Exhaustion vs. Heat Stroke
Some of the signs of each of these two illnesses are the same
: dizziness, headache, nausea. Other signs can help you differentiate between the two. The main signs to help you determine whether it is heat exhaustion versus heat stroke are the following:
Heat Exhaustion:
-heavy sweating
-pulse may be fast and weak
-headache
Heat Stroke:
-no sweating; skin is red, hot and may be moist or dry
-rapid,
strong pulse
-

throbbing

headache
-unconsciousness
Victims of these illnesses may show only some of the symptoms discussed here.
If you detect signs of heat stroke call for medical help immediately. Also, know that untreated heat exhaustion can turn into heat stroke.
Here is the full list
of symptoms to look for
(from the CDC website):
Heat Exhaustion:
-Heavy sweating
-Paleness
-Muscle cramps
-Tiredness
-Weakness
-Dizziness
-Headache
-Nausea or vomiting
-Fainting
Heat Stroke:
-An extremely high body temperature (above 103°F, orally)
-Red, hot, and dry skin (no sweating)
-Rapid, strong pulse
-Throbbing headache
-Dizziness
-Nausea
-Confusion
-Unconsciousness
What To Do
Some cases of heat exhaustion are mild and can be treated at home or without medical help while other cases of heat exhaustion are more severe and should be treated by a medical professional. Heat stroke is a
medical emergency
and medical help should be sought immediately (i.e., call 911 for an ambulance).
The main differences in treatment are as follows:
Heat exhaustion:
-home care may be suitable
-give fluids to drink (water or electrolyte beverages; no caffeine, no alcohol)
Heat stroke:
-needs immediate medical care; home care is not sufficient
-do not give fluids to drink (
CDC recommendation)
For both of these conditions, one of the main things you want to do is cool the body and bring down the temperature.
For heat exhaustion:
-
drink cool beverages (caffeine and alcohol free)
-
take a cool bath or shower
-
rest in an air-conditioned environment
-
wear light clothing
For heat stroke:
-call for immediate medical attention
-get victim to shady or other cool area
-cool the victim rapidly (
examples: spray or sponge with cool water; cool bath with constant supervision)
-monitor body te
mperature and keep actively cooling the victim until temperature drops to 101-102 degrees F.
Prevention
During times of extreme heat:
-Limit outdoor activity
-Increase fluid intake, regardless of activity level
-A
void hot foods and heavy meals
-Replenish salts and minerals
-Try to perform your outdoor activities during cooler times of the day (morning, evening
)
-Keep to the shade as much as possible
(umbrellas come in handy!)
-Wear light clothing and a hat with a brim to shade the face
-Stay in a cool environment
ALSO during extreme heat:
-Check on
friends, family, and
elderly neighbors
-Protect pets from the heat
-Do not ever leave children or pets in parked cars--even if the windows are left open
The city of Minneapolis (home of my massage practice) has a list and map of air-conditioned public buildings at this
link
. Such information can be very helpful for people who do not have air-conditioning in their home.
Those are the basics I want to share with you. Already this summer in our city we have had temperatures in the high 90's and low 100's. Some people here have already
been hospitalized with heat stroke. It sneaks up on you. So, please be prudent, take preventive measures, and take it easy in the extreme heat so that you can have a safe and fun summer.
information sources:
(1)
Centers for Disease Control (CDC)
(2)
WebMD
photo by NASA
, uploaded from
Wikimedia Commons
. "This image shows the Sun as viewed by the Soft X-Ray Telescope (SXT) onboard the orbiting Yohkoh satellite." Cool.