This gift from nature is cute and nutritious.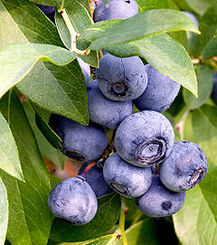 One of the joys of summer for me is the abundance of fresh fruit. Lately, I've been on a blueberry kick-- they are such an easy snack. When it's crazy-hot out, I tend to graze on snacks and avoid big meals. Blueberries make a perfect snack: I just wash a handful, put them in a little bowl and snack away. I also freeze them and keep them in an easy to access container so I can just reach in the freezer and grab a few and slowly eat them one at a time. They are nature's nibble-size popsicles...a little sweet, a little tart...perfect for the hot weather.
Nutrition Information on Blueberries

Raw blueberries, of course, are the most nutritious. They lose some of their nutritious value when baked. Blueberries are very high in vitamin C, and high in dietary fiber and manganese. Manganese helps bone development and helps convert food to energy in our bodies. (1) They are also high in antioxidants which are not damaged when frozen. (2)
Here is a
link
if you want more details on the health benefits of blueberries such as cardiovascular benefits, whole body antioxidant support (including evidence that consumption of blueberries can reduce damage to muscles after overly-taxing exercise), and cognitive benefits (blueberries may improve memory, among other cognitive functions).
The Simple Ways I Enjoy Blueberries

-Buy organic; I find them to be more flavorful
-Get them fresh from a farmers market or in the co-op's produce section
-Eat fresh by themselves or in a fresh fruit salad (including organic bananas and fresh pineapple)
-Exciting frozen treat like tiny popsicles (I rinse the blueberries, pat dry, freeze in single layer, then put in easy access container for a quick grab out of the freezer)

-Add frozen blueberries to smoothies and protein shakes (my guy, Russ, makes the most wonderful smoothies with frozen blueberries, bananas, peaches, mangoes, sometimes a splash of organic chocolate syrup, all in a soy milk base)
Bon Appetit!
(1)
U.S. Highbush Blueberry Council

(2) The World's Healthiest Foods
image
by
Jim Clark
on
Wikimedia Commons
with this
license