Eat oats...one of the best nerve tonics around!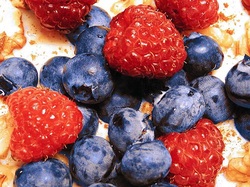 ...or drink the sweet and delicate tea made from the oat plant, Avena sativa. Both forms of the oat plant act as effective nerve tonics.
Avena sativa is used in herbal medicine to treat stress and depression because of the plant's ability to strengthen and help heal damaged nervous tissue. (1)
Oats are surprisingly nutritious
Oats are high in manganese, selenium, vitamin B1 (thiamin), dietary fiber, magnesium and amino acids, while low in calories.
One cup of the cooked whole grain has 6 grams of protein. (2)
Besides nourishing the nervous system, this plant also fortifies the bones, teeth, skin, hair, nails, lungs, and circulatory system. (3)
Ways to Enjoy Oats
-

Oatmeal

: The best oats to use are steel cut or rolled (not quick oats!). Not only do you get more nutritional benefit from the steel cut and rolled oats but you get a much better flavor and texture. I find quick oats to be barely edible compared to steel cut oats.
To save time, I make a bigger batch of oats than will be eaten in one sitting and I refrigerate the remainder to be reheated for the next day or two. I reheat on the stove top, adding a little water
.
-
Oat Straw Infusion
: (not a true tea by definition but often called Oat Straw Tea.)
Pour a cup of boiling water onto 1-3 teaspoonfuls of the crushed dried stalks ("straw") and
let sit for 10-15 minutes. This should be drunk three times a day. (4) Look for Oat Straw at your local co-op in the bulk herbs section.
Oatmeal Cookies

:
Laurel's Kitchen
cookbook has my favorite oatmeal cookie recipe.
Bread or Muffins

: Add oat flour or whole oats to your favorite recipe.
Oat Bran

: Sprinkle some on your hot or cold cereal.
Good for the anxious pooch, as well
If your dog suffers from separation anxiety, you can feed him or her oatmeal (unsweetened). Check with your vet first because each dog has their individual conditions and sensitivities. Holistic vets may be more familiar with the remedy than non-holistic vets.
Remember your Oats when times get tough
Whenever I become aware that my life (or a part of my life) is becoming overly stressful, I make a list of a few things to remember to do for myself that often get lost in the storm. One of these things is to eat oatmeal. I generally choose steel cut oats. There is something very soothing and nurturing in sitting down to a nice hot bowl of healthy oatmeal, with pure maple syrup and a bit of soy milk splashed on top...kind of like a comforting hug from Mother Nature.
(Oh, and don't forget the blueberries!)
(1) David L. Hoffman, BSc,
Nervine
(2) The World's Healthiest Foods
(3)
Bright Hub,
Healing with Oat Straw Tea
(4) David L. Hoffman, BSc, Oats
photo by Ted O-Rama
at
Wikipedia Commons
with this
license
.