Chew your food, well, for optimal nutrition absorption and ease of digestion.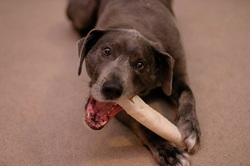 Chewing does more than make it easy to swallow food. Food on your plate is not in a form that can be directly used as nourishment for the body. We rely on the chemical process of digestion (1) to convert food into useful nutrients and energy.
The function of chewing is vital because digestion actually begins in the mouth with our saliva. Saliva contains two important digestive enzymes:
alpha-amylase
which performs the first step in digesting carbohydrates, and
lingual lipase
which performs the first stage of fat digestion.
The better you chew your food, the more surface area you create for the saliva to reach the food molecules.
The longer you chew, the more time the enzymes in your saliva have to do their job effectively.
When food is sufficiently chewed, and subsequently properly digested, the nutrients and energy are more quickly released and assimilated by our bodies. (2)
Hastily chewing your food means you get less nutrition from your food and makes it harder for the rest of your digestive system (stomach, intestines) to work. When incomplete digestion occurs
you can experience indigestion, flatulence and bacterial overgrowth in the colon. (3)
How long should you chew your food? A good rule of thumb is to chew it long enough that it becomes rather homogenous in your mouth...so that before you swallow, your tongue really cannot discern any chunks or specific textures of what you're eating. If you do this,
your body will thank you...and you'll
make your Mother happy.
(1) National Institutes of Health: good article on
Your Digestive System and How It Works
(2) Macrobiotic Guide: good article on this topic and other benefits of chewing your food.
(3) George Mateljan Foundation:
another
great article
on this topic and other benefits of chewing your food.
photo credit: Shane Adams, at Wikimedia Commons, with this license