The new USDA plate makes it easier to know if we're getting enough veggies and fruit.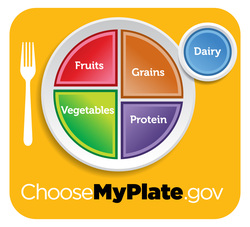 Since the 1980's, we've been told to eat foods in proportions and categories based on what was called the "food pyramid". Now, the USDA has updated their advice on nutrition and has provided a new visual for proportions.
This week's post on my health blog is short and sweet:

Make sure 1/2 your plate is
composed of vegetables and fruit.
The USDA website has some really good information on an easy to navigate website: www.choosemyplate.gov
Some information you can find on this site: what are the foods in each group, recipes, vegetarian diets, food safety,...plus much more. Be sure to see the "related topics" on the right side of the page for each topic you choose.
image from USDA