Clenching your jaw can cause jaw pain, headaches and crack your teeth.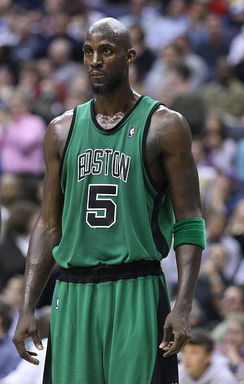 Don't worry about Kevin Garnett. I don't know if he clenches his jaw or not but the photo will make sense when you read on.
Two main muscles close the jaw:
the masseter (basically at your cheek) and the temporalis (at the side of the head, mostly over your ear). If these muscles are overused they can refer pain to the jaw, teeth and/or the head. Clenching can even cause hairline fractures in your teeth. These fractures can become weak points that turn into a chipped tooth, or in very severe cases shatter the tooth.
Overuse of these muscles

can come with excessive chewing
and mental or emotional stress.
Chewing gum for long periods of time
or chewing tough bread are some ways people chew too much or too hard. Stress is often held in these muscles and makes us clench our teeth together during the day and while we sleep.
Two easy tricks you can adopt to prevent clenching your jaw during your awake hours:
Tip #1:
With your mouth closed, gently place the tip of your tongue on the back side of your two front upper teeth.
This position makes it harder for you to close your teeth together, thus forcing a more relaxed position for the jaw muscles. This should feel comfortable and over time can make a big difference.
Tip #2:
The benefits of this one are the same as the first tip but here you keep your tongue in a slightly different position. For this trick, say the word "Boston" and keep your tongue in the position it rests in for the letter "n" in Boston. You can keep you lips closed with your tongue in the "n" position.
Using these preventative tricks, especially during times of stress, can help reduce or prevent headaches, jaw pain and keep your teeth sturdy.
By the way, Kevin Garnett's jaw does not look clenched. Nice job, Kevin!
photo credit: Keith Allison, under this license
, at
Wikimedia Commons