Possible ways to prevent muscle cramps.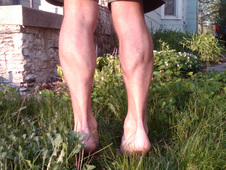 Some of my clients experience frustrating muscle cramps. The most common cramp complaint is of the calf, often at night, sometimes disturbing sleep. The scientific community seems to be hesitant to conclude exactly what causes muscles cramps. Some possible causes of muscle cramps that have been studied are: dehydration, mineral deficiency, certain medicines, and overuse or straining the muscles.
Some simple things you can do
to prevent calf cramps:
-
stretch the muscle frequently (but not forcefully) with the knee straight AND with the knee bent to regain length and suppleness in the muscle.
-
keep the ankle joint/foot in neutral position as much as possible throughout the day...avoid having your foot in a pointed position for a prolonged period.
-
At night, when sleeping, be aware if you are holding your feet in a pointed position. If your blankets are forcing your foot into a pointed position, either loosen the blankets or use the weight of the blankets over your flexed toes to hold your feet in the more flexed/neutral position.
CALCIUM AND MAGNESIUM SUPPLEMENTS
(and potassium, B-complex and vitamin E):
Some supplements you may want to check into for prevention of muscles cramps are calcium and magnesium.
IMPORTANT NOTE: C
heck with your physician, chiropractor or pharmacist before taking any of these supplements. I am not suggesting you take these; I am suggesting you learn about these supplements and the symptoms of deficiency from an appropriate professional and see if these supplements can be helpful to you. You can safely increase your intake of these nutrients by eating foods rich in them.
Muscles use three minerals to work efficiently (f
or contraction and relaxation)
: calcium
(Ca)
,
magnesium
(Mg)
,
and
potassium
.
There is an optimal ratio of Ca to Mg and if there is an imbalance in the levels the muscles can be prone to cramping.
Magnesium is stored in muscle and bone and acts like a key that unlocks muscle cells, allowing potassium and calcium to move in and out when needed as a muscle does its job.
If the levels of these three become unbalanced, you may experience muscle aches, pains, or cramping.
To keep your muscle cell in optimal health, you need to get potassium and calcium into the cell, and you need to have magnesium to open up the door to let the potassium in.
A perusal around the internet revealed that
taking
vitamin B
complex supplements may help manage leg cramps. Also, a deficiency of
vitamin E
might cause muscle cramps
.
Some foods that effect nutrient levels

:
-Caffeine can deplete
the muscles of many nutrients including Ca, Mg, B-vitamins, vitamin C.
-Bananas contain high levels of potassium.
-Fresh, green leafy vegetables are high in Ca and Mg.
Sources used for this post:
www.everydayhealth.com
www.mayoclinic.com
www.tricoretherapy.com