Pillows make a difference for neck pain and stiffness.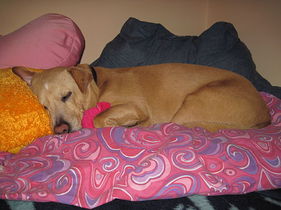 Do you suffer from neck pain or stiffness? This may be because your pillow is a bad fit for your neck, especially if your pain is worse in the morning.
Our necks have a natural lordotic curve (concave to the posterior) which is the same direction of curve as the lower back.
Even while we sleep we need to maintain this curve. If you sleep with a flat neck or with your chin tucked too forward, you could experience subtle slippage of the vertebrae and irritation of the muscles and end up with neck and shoulder pain.
When you lay on your pillow in your bed, assess the curve of your neck and position of your head. The head and neck posture while laying down should be similar to the posture found in a healthy standing position: a moderate lordotic curve of the neck and the head aligned over the body (not with head or chin forward). Two cues you can use as general guidelines for proper head position are 1) ears in line with shoulders or 2) the front of cheek bones in same verticle plane as the top of your breast bone (manubrium, top of sternum).
The height, firmness and material of your pillow all make a difference. If your pillow does not allow for the posture described above, consider getting a new one. (Also, old pillows can have a lot of mites, dust and other muck in them.) Pillows that are too bouncy can strain neck muscles.
Simple Trick
One thing you can do to make your current pillow more supportive and comfortable is to be sure your shoulders are NOT on the pillow. Your head should be fully on the pillow with the bottom edge abutting your shoulders. With this pillow position, you can grab the bottom corners and pull them up between your shoulders and ears. This will provide a lift of pillow into your neck and allow for your head to tilt out of a chin forward position.
Buckwheat Pillows
Buckwheat pillows just might be the perfect pillow. They have been used for centuries in Japan and China. They are described as neither too firm nor too soft, with constant air circulation which keeps them fresh and comfortable in the hot or cold seasons. They are filled with the hulls of buckwheat and usually have a zipper so you can personally fill the pillow to fit you. These pillows fit the contour of your head, support the lordotic curve, don't flatten as you sleep, and adjust to your head as you change postions through the night.
Purchased from a reputable company, buchwheat pillows are dust free and hypoallergenic. Organic options are available. (I just ordered one last week and am eagerly awaiting it's arrival. My current pillow is comfy-ish but too high. I should be able to do a personal review soon!)
With the right pillow you can prevent headaches, get relief from shoulder and neck pain, and even relieve some low back pain.

*Photo credit: Bokehmon
at
Wikimedia Commons